I entered my tablecloth dress into the PatternReview.com "Upcycle Contest" and I won!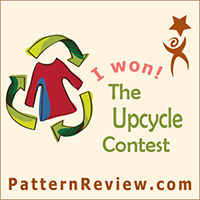 OK, I didn't win the contest really. A woman who made a very cool denim jacket out of some old jeans won. But I won the "random prize" which is a gift certificate to Patterns from the Past, an online seller of vintage sewing patterns. It's better to be lucky than to be good, right?
This means I can display this logo on my blog.  Magic!
I take this victory as a sign that the Japanese Hippie Doomsday Cult has pleased the gods with its devotion, thrift and style. Sew on!